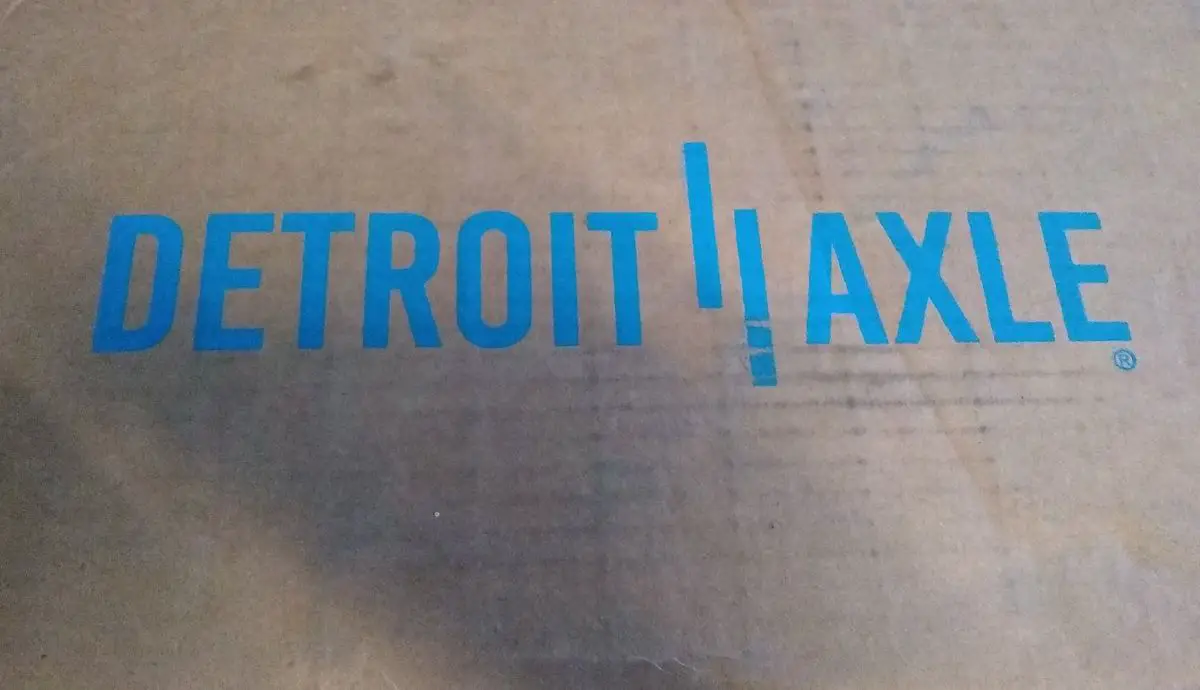 Are Detroit Axle auto parts any good even though they are so cheap?
Here's why you'll probably only have a good experience with Detroit Axle auto parts if you follow these important guidelines.
website: www.detroitaxle.com
While shopping for a set of rear drums and shoes for our family's 2006 Toyota Corolla and, probably like you, I came across a complete set of brake rotors and shoes on eBay from a company called Detroit Axle.
I also know they sell a lot of auto parts on Amazon.
Out the door their rear drums and ceramic brake shoes cost me $72.51, slightly less than if I bought piecemeal rotors and shoes from Rock Auto and over 2x less than if I bought everything from AutoZone.
Here's how much the same parts cost at Autozone.
As I write this blog post, the rear drum and brake shoe work on our family's Corolla has been completed, we've used all Detroit Axle parts, and I'm ready to share my opinion on our experience with Detroit Axle.
Before we get into the details, here's a bit more about Detroit Axle, where their headquarters are located, and where you can find more information about them.
Is Detroit Axle a real company and where is it headquartered.
Buying parts online, especially on eBay and Amazon, most of us know why what we buy is so cheap, most aftermarket replacement parts are made in China.
This fact is no secret.
The tricky part, as consumers, is weighing the pros and cons of going for the super cheap part knowing there's a slim chance you'll have an awful experience, or worse, the part fails. quite simply.
As the saying goes, the cheap man spends the most.
For me, I know that Chinese auto parts dealers in the United States have been in business for decades and "Made in China" doesn't necessarily mean a bad product.
A company that has been in business for a long time, has sold a lot of products, and has a real and substantial size operation in the United States are all good signs that these auto parts dealers in China have established relationships with their business partners. abroad and know what to do.
It's Detroit Axel.
But yes, Detroit Axle is a real business.
Here is a screenshot of their main HQ in Ferndale, MI.
And, according to their website, not only do they have two storefronts in Michigan, but they're expanding, opening a 225,000 square foot distribution center in El Paso, TX.
And, here's a screenshot of what they sell, pretty much everything related to suspension, steering and braking between the wheels of your car, Detroit Axle sells.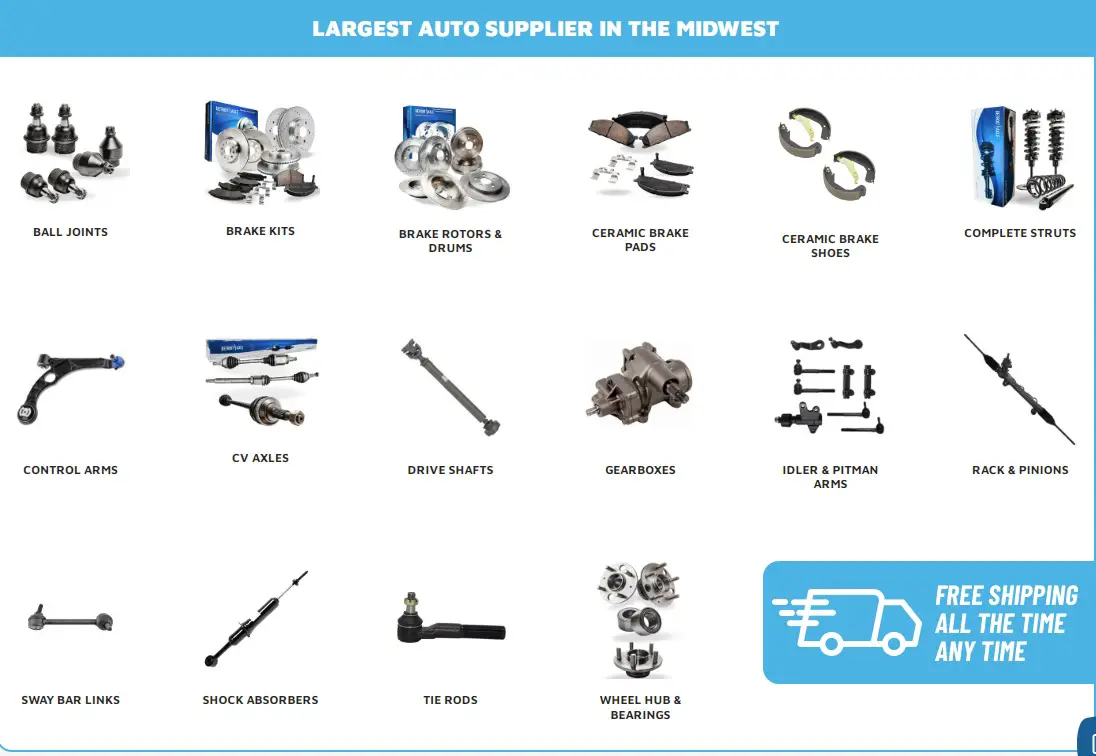 Is everything Detroit Axle sells made in China?
According to local Michigan guide Jason James, "Axles and racks are refurbished in-house at Ferndale. All new parts come from China.
To corroborate this assertion, a scroll of Detroit Axle photos on Google, including many photos taken inside their Ferndale distribution center.
I can see evidence of workers (presumably) refurbished CV joints and half shafts.
In this photo, a worker cleans half shafts in what looks like a large industrial-sized parts washer.
I don't see any pictures of workers casting new rotors or working on assembly lines assembling brake pads, so as mentioned these parts are refurbished parts from a supplier in China.
My experience with the full set of rear drums and ceramic pads from Detroit Axle.
I only decided to blog about my experience afterwards, otherwise I would have taken more pictures.
Anyway, here's what the box delivered to my door looked like and here's all the boxes they used to pack the rotors and shoes and all the chemicals included.
Note, this after work, so these are the old shoes.
Unlike Rock Auto and Autozone, Detroit Axle was nice enough to include a 50-state compliant brake parts cleaner and a bottle of Dot 3 brake fluid.
A rear drum rotor and brake pad job is pretty simple and straightforward if you follow all the right steps and in my experience it was.
Everything from the drums and the shoes fit perfectly, no adjustments needed.
Even all the small OEM parts like the parking mat and the key that holds it in place, go well with the supplied brake shoes.
I've only driven our Corolla twice but, so far, I'm more than happy with the renewed braking performance and the peace of mind knowing there's enough brake material that should, theoretically, last more than a decade.
For reference, our Corolla has 170,000 miles which had, prior to this work, the stock rotors and rear brake shoes.
I will of course update this blog post as the months go by.
Where can I learn more about Detroit Axle?
To give you an idea of ​​Detroit Axle's sales volume, according to their eBay page, since they've been sellers on eBay, Detroit Axle has completed more than 712,000 orders.
In the past 12 months, they have fulfilled over 88,000 orders.
With that in mind, a good place to learn more about Detroit Axle (re reviews) is their eBay page (linked here.)
Another place where you can find reviews for a specific Detroit Axle product is the specific product page for the item you are trying to purchase.
For instance, here is the page for a complete front brake kit for a 2011-2013 Kia Sorento and a 2010-2012 Hyundai Santa Fe that has 59 ratings and three questions answered.
To learn more about customers' experiences with the company, as a whole, its Google Reviews page (linked here) which, at the time of this writing, has nearly 6,000 individual reviews.
Seeing so many negative reviews on Google can be a hindrance, and rightly so, but keep in mind that they have a 99.3% positive feedback on eBaysince dissatisfied customers are more likely to leave a review compared to a customer who has nothing to complain about.
How to have a good experience buying Detroit Axle parts?
A lot of the frustration I see with negative reviews written on Detroit Axle is ordering the wrong part and then having to go through a return process with customer service.
Before completing your order, make sure you have selected the correct part for your specific model and trim level.
And, even if Detroit Axle makes a mistake, which is inevitable when you process over 100,000 orders a year, by reading their answers on Google, they will work with you to solve your problem.
Register on their Contact Us page is a contact form, email and phone number where you can reach someone from Monday to Saturday.
Conclusion
Yeah, Detroit Axle sells a lot of parts that are made in China but again they've been parts dealers for (by their words) 30 years, have an actual physical presence in the US, have some kind of customer service, and even have, at least, a 10-year warranty on their parts.
All of this mitigates the risk you, the consumer, face when buying parts overseas.
I am confident in recommending Detroit Axle parts to anyone looking to buy affordable parts that also deliver when it counts.