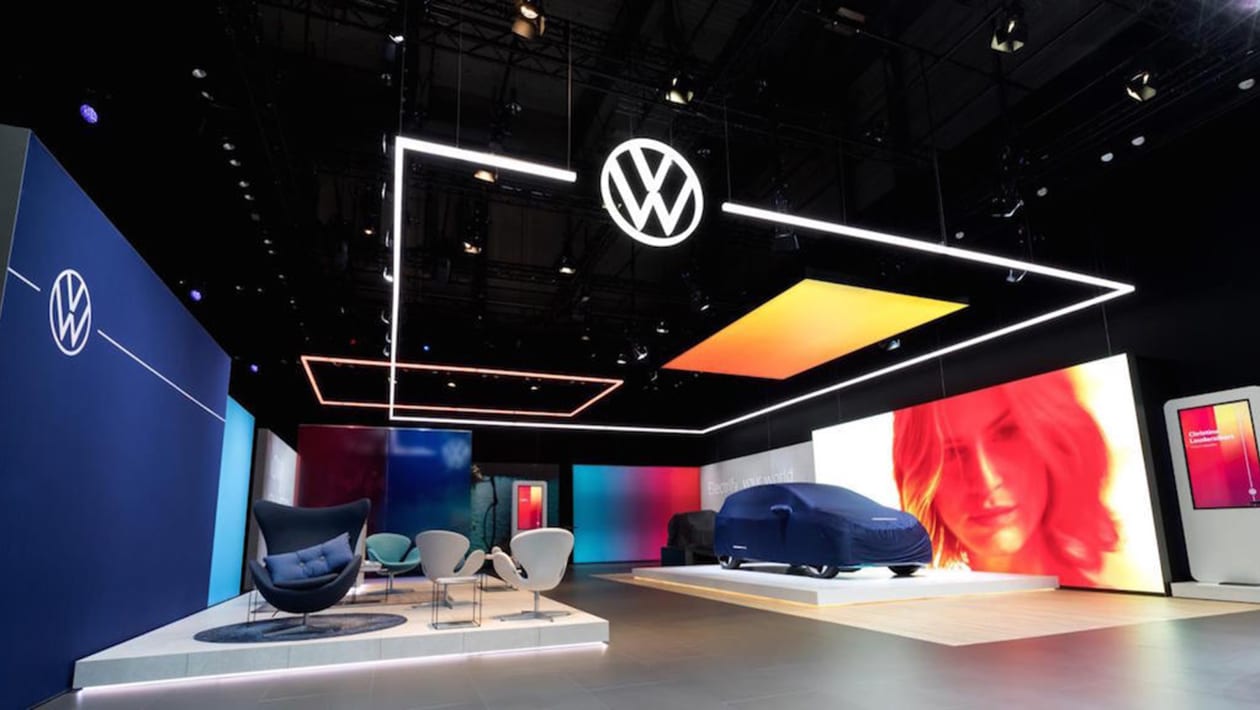 Automotive badges: why are automotive logos getting simpler?
Keen-eyed car enthusiasts – especially those who appreciate a good hood badge – may have noticed that the logos of many automakers have become two-dimensional lately.
Volkswagen can claim to be the first of the recent trend, switching in autumn 2019 to a flatter and simpler version of its famous circled V and W letters for the launch of the electric ID.3. But since then the floodgates have opened, with BMW, Nissan, Toyota, Rolls-Royce, Vauxhall, Kia, General Motors, Dacia, MINI, Peugeot, Renault and Volvo all unveiling 2D versions of their previously 3D badges.
The trend from 3D to 2D logos isn't really about fashion, it's all about technology and functionality. Simply put, three-dimensional logos aren't as easy to view or display in the wider variety of formats required to sell cars in today's era, from apps on small smartphone screens to website configurators. or showrooms. But beyond these practical considerations, there are also more subtle reasons why the badges go from fuller 3D to flatter 2D.
A bigger trend that precedes the recent rush for 2D car logos is the number of car manufacturers who want to transform themselves into "mobility providers". As green legislation and taxation aim to restrict private car ownership to ease traffic congestion, app-controlled subscription and pay-per-view car-sharing and electric car delivery services are set to increase – and some automakers have already set up separate mobility divisions, such as Toyota's Kinto and Renault's Mobilize brands.
Logically, such a repositioning makes visual references to a company's mechanical history less relevant. At the start of 2021, Kia even dropped the word "Motors" from its name when its badge became 2D. Signs of this different design approach have been evident in other industries for some time.
Making car badges look metallic and thick when they're actually painted plastic and quite flimsy – usually for cost and crash safety reasons – is a bit "2007 Apple iPhone Mk1". At the time, the iPhone's Notepad app sported beige digital-effect paper and a margin line to reassure users of physical notepads that it was also a good place to write notes. information.
Apple abandoned this approach a long time ago, and similarly car badges may no longer need to look like metal to convince buyers that their cars more and more electrical and digital can be trusted.
There's a symbolism in the large, metallic-looking 3D badges, which might be out of step with often difficult modern times too – from recession to pandemic – that has caused some humans to try to appear less self-centered. The bright and bold "look at me" trend in design, color and material has for some time given way to satin, matte and subtle finishes in everything from exterior car window frames to buttons and interior switches.
For VW in particular, the humbler new logo for its electric ID range could be seen as a symbol of the brand moving away from its late-2015 Dieselgate scandal. "says VW Group Head of Design Klaus Zyciora. "We reconsidered VW's goal – democratization of mobility, accessible products and environmentally friendly mobility for everyone. The new design is a step back from what we've meant to people over the decades.
need to sell your car?
Find your best deal from over 4,000 stockists and sell up to £1,000 more. It's so easy.
Note 'Excellent'

Trustpilot
Even Rolls-Royce is seeing changes in the buying habits of its wealthy customers. "We've found that Ghost customers reject complicated details and flashy gimmicks," says Rolls-Royce designer Henry Cloke, "instead of seeking high-quality, carefully crafted pieces that stand up to scrutiny. ." Like other automakers, the British brand is also repositioning itself, not as a mobility provider but as a "House of Luxury", as it seeks to sell high-end services and quality accessories, as well as cars.
Despite this change in car logo styling, most designs have changed little. Dacia is an exception, with its old badge – like so many from the early 2000s with its name sitting in a generic shield – changing in 2021 to use only the word 'Dacia' or its initials 'DC', all two bold renderings and a simple typeface, just like its no-frills cars.
But Dacia has less history to consider. Automakers with over 100 years of brand awareness would be foolish to throw it all away. American and Chinese start-ups don't have old logos associated with soon-to-be-banned technology, but neither do they have the hard-earned, long-standing, and often nostalgic reputations of traditional manufacturers built over generations. So while many other automakers will likely switch to 2D logos soon, expect their historic brand identities to remain largely familiar.
The Story Behind 8 Familiar Automotive Logos
Most car brands are instantly familiar, whether it's Mercedes' three-pointed star or Toyota's approximation of a "T". The logo plays a small role in this, as it is fitted to every car that rolls out of a manufacturer's factory, with the aim of creating a brand identity that will leave a lasting impression on potential customers.
But while automotive badges have become refined and modernized over time, they remain steeped in history. So what are the stories behind the badges – why does Audi have four interlocking rings, Peugeot a lion and Vauxhall a griffin? We delved into the past to discover…
Porsche
Creation: 1948
The Porsche badge was first designed in 1952, before appearing on the 356 in 1954. The stylized antlers and red and black national colors all echoed the crest of Württemberg-Baden, the region around Stuttgart in Germany where the company was based. Meanwhile, the black steed features on Stuttgart's coat of arms and underlines Porsche's connection to the city.
It also expressed the power of the cars for which Porsche would become famous. The Porsche badge is one of the few that has barely changed over the years except for slightly cropped lettering and smoothing of the horse's outlines.
Mercedes-Benz
Creation: 1926
The Mercedes-Benz three-pointed star was trademarked in 1925, just in time for the 1926 merger between DMG (Daimler) and Benz & Cie, which created the brand as we know it.
The star symbolizes the use of Daimler engines on land, at sea and in the air, and was combined with Benz's laurel wreath on early logos.
In 1933, the first form of the modern logo was created – a black circle with the silhouette of the Mercedes star inside. The star, laurel wreath and lettering were dropped in favor of the single star in the 90s.
Renault
Creation: 1898
When the Renault logo was created in 1900, it consisted of the intertwined initials of the Renault brothers Louis, Marcel and Fernand. The badge was initially a roundel on the front of the car, which was cut out when the horn was placed behind and the sound had to escape.
It underwent many transformations before becoming a diamond in 1925. Since then it has been developed into the 3D badge we know today. The yellow that is widely associated with the brand was first incorporated into the design in 1946 when the company was nationalized in France.
Renault is set to introduce a reinterpretation of the diamond badge it used throughout the 1970s and 1980s. Within the next two years, the French brand will start selling an electric Renault 5 with styling based on the original.
Audi
Creation: 1899
Each of Audi's four interconnected rings symbolizes one of four previously independent manufacturers – Audi, DKW, horch and Wanderer – which merged to create today's Audi AG.
The interconnected rings represent the unity of these four founding companies, while each of the four brands has been assigned a specific market segment within the group.
DKW assumed responsibility for motorcycles and small cars; Wanderer built mid-size cars; Audi made mid-luxury class cars and Horch produced luxury high-end models.
The whole group has become Audi, but its current VW Group ownership means it's in much the same position. It is joined by Skoda, the value arm of the group, SEAT for styling, VW and companies like Porsche and Bentley creating the real luxury goods.
Vauxhall
Creation: 1903
The Vauxhall griffin was first used on the coat of arms of Fulks le Breant, a mercenary soldier who was granted the manor of Luton by King John in the 13th century and given a home in Lambeth, London. he named the building Fulks Hall, and over time the name was corrupted to "Vauxhall".
Vauxhall Ironworks then adopted the griffin in 1857 as its logo, and in 1903 it kept it when it became the car company we know today.
Peugeot
Creation: 1887
The Peugeot lion has undergone several spectacular metamorphoses during its life. In 1847, when Peugeot produced saw blades and other tools, the lion was chosen as the logo to reflect the strength and flexibility of its saws.
Various versions of a golden lion were eventually replaced by a new generation of the logo – the outline lion arrived with the 604 in 1975. It has changed little since then, evolving into a more fluid design.
Like Renault, Peugeot recently introduced an all-new retro-themed badge that echoes the image on the left above. It's a black shield with a silver lion's head and Peugeot lettering above it, and it's meant to create a more premium image as Peugeot looks to move upmarket.
Citroen
Creation: 1919
During a trip to Poland in 1890, André Citroën discovered a gear cutting process based on a herringbone design. Citroën saw this as the way to start their career in manufacturing, so in 1919 when they started making vehicles, they adopted the double chevron as their logo.
Sure, over the years it's seen many changes, but it wasn't until the '80s that the blue and yellow scheme was dropped in favor of white and red for a more vibrant appearance.
Skoda
Creation: 1895
The name Skoda appeared only in 1926 – about 30 years after the company was born (it was originally called Laurin and Klement after the name of the founders). With it came the modern logo.
The origins of the winged arrow are unknown, although rumors suggest that the circle represents the globe, technical progress of the wing, and advanced arrow production methods. Alternatively, it is said to look like an Indian headdress. It wasn't until 1995 that the badge received its current color scheme, with black to celebrate its 100th anniversary and green to show its commitment to being environmentally friendly. Skoda unveiled its latest badge in 2016.
What's your all-time favorite car badge? Tell us in the comments below…