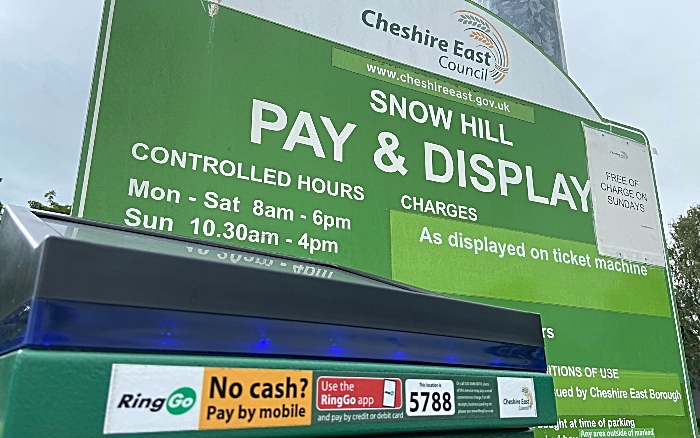 Parking revenue for CEC drops £ 3million in lockdown
Parking revenues in East Cheshire fell by more than £ 3million last year from the previous year due to the pandemic, writes Belinda ryan.
Cheshire East suspended parking fees between March 27 and June 15 last year due to Covid-19.
Figures obtained as part of an access to information (FOI) request show that the total revenue generated from parking fees in the borough was £ 1,967,640 in the last fiscal year (2020/21 ).
In the previous fiscal year, 2019-2020 before the impact of the pandemic, that figure was £ 5,064,703.
Crewe adviser Anthony Critchley said: "The numbers are quite surprising and it is worrying how they are going to be recovered.
"But the fact remains that towns like Crewe, Wilmslow, Macclesfield, Nantwich, Knutsford, Congleton and Alderley Edge are still paying for those that don't."
The long-awaited Cheshire East car park overhaul is to be discussed at this month's highways committee meeting.
The issue of parking fees has been a thorn in the side of the previous Conservative administration and the current Labor / Independent led council as some cities pay and others don't.
In places like Alsager, Middlewich, Sandbach, Audlem, Bollington, Handforth, Holmes Chapel, Prestbury and Poynton, all municipal parking is free.
Figures published in the FOI lounge in Nantwich paid £ 279,622 in the last financial year, in Knutsford they paid £ 309,363, Congleton £ 84,123 and those at Alderley Edge paid £ 22,247.
Macclesfield was Cheshire East's biggest cash cow this year, with drivers paying £ 567,851 to park. Wilmslow was next at £ 375,388 and Crewe was third at £ 329,046.
As for parking expenses, Cheshire East paid Nantwich £ 113,967, making a total profit of £ 165,655 from Nantwich drivers.
CEC £ 158,340 at Knutsford car parks, making a profit of £ 151,023 from Knutsford drivers.
He paid Macclesfield £ 465,160 which meant he made a total profit of £ 102,691 from Macclesfield drivers.
He paid Wilmslow £ 238,017 which resulted in a profit of £ 137,371 on Wilmslow.
And he paid Crewe £ 287,014, making a profit of £ 42,032 from Crewe's drivers.
Cheshire East spent £ 27,671 on Alsager free parking in the last fiscal year, £ 21,581 on Middlewich free parking and £ 17,043 on Sandbach free parking.
Cllr Critchley said, "Where the hell did they spend that money on parking lots in all these towns?"
Meanwhile, Crewe is the city with the highest load for the first hour, at 80p; with Nantwich and Wilmslow in second with most 70p loads.
Macclesfield mainly costs 70p for the first hour, with some parking lots paying 60p or 80p.
Most Knutsford parking lots cost 70p the first hour, Alderley Edge 50p and Congleton 40p.
Most fee-paying towns offer at least free municipality-owned parking, although there is none in Knutsford or Nantwich.
There is a municipal car park in Knutsford and one in Nantwich where parking is free after 3pm.