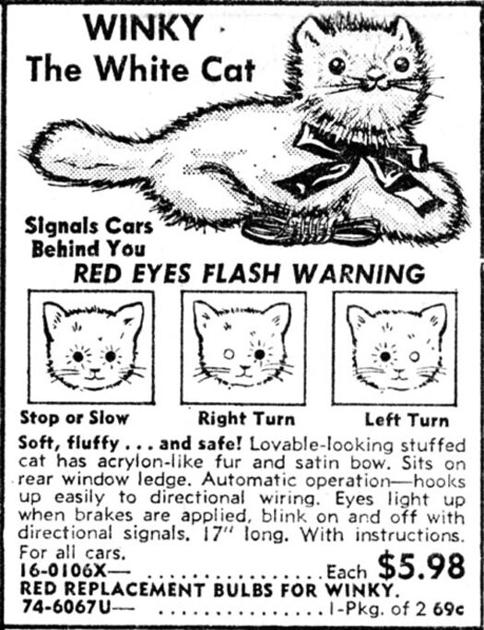 Wheels: The JC Whitney Auto Parts Catalog | News from local businesses
For the budget-conscious automotive kid who grew up in the Dark Ages, car parts and accessories catalogs were fodder for the imagination, and in the world of free catalogs, JC Whitney was the King.
Proudly carrying the tagline "Everything Automotive," it was something a reader could spend hours flipping through, its incredibly thin, pulp-like pages adorned with hand-drawn illustrations and eye-catching descriptions.
It was understood that no one was going to complete a Concours-quality restoration or build an award-winning muscle car using JC Whitney parts, but that was really not the point of the catalog.
It was aimed at the masses, the guy on a budget, the kid who wanted to personalize his ride, the hobbyist who wanted to pass the time and create a hot rod in his head.
JC Whitney was founded in 1915 by Lithuanian immigrant Israel Warshawsky, who originally bought leftover inventory from deceased car dealers and manufacturers while operating a junkyard in Chicago that bore his last name.
In 1934, Israel's son Roy joined the business and, perhaps trying to build on the success of another Chicago retailer, Sears and Roebuck, entered the catalog market. Roy took over the business after Israel's death in 1943 and ran it at its peak.
Like a good rock band named after a non-existent leader, there was no JC Whitney – it was just a name that sounded less ethnic than the founders, and even while Israel and Roy were alive, they never revealed why that specific name was chosen.
Access to the JC Whitney catalog was obtained by completing a bound card in each issue and waiting for the mail to arrive.
Once the catalog found its way to your door, like modern email spam, it never stopped.
Despite the annual message on the cover that warned "this could be your last catalog" if you didn't order something, they kept coming.
Need something specific for your motorcycle, Jeep or VW? There were also separate specialist catalogs for these. In fact, JC Whitney customers could order almost any part needed to build a flat-wing Jeep or VW Beetle from scratch, with a starter rope for your air-cooled V-Dub.
Perhaps the popularity of such a dry and hard parts catalog was the truly original variety of completely unnecessary accessories, produced at low prices and compiled between the shiny covers of the JC Whitney catalog. Much too much to get into here, I will list some of the most memorable things.
Winky the cat was a small stuffed animal with lighted up eyes that rested on the back shelf of a car (remember that?) Third brake light hug.
There were chrome barefoot-shaped accelerator pedals and matching high beam pedals (high beam switches were mounted on the floor at the time). You can buy big white rubber rings, or just paint, to turn your boring tires into wide white walls. Or the classic "Ah-ooo-Gah", "wolf whistle" or for the aggressive driver, the "steamship blast horns".
To classify a VW Beetle, one could fit a Rolls-Royce style grille and hood as well as a rear engine cover as a Continental kit. Sophisticated opera lights could dress up a custom van inside or out, and edge feelers – like wire antennas sticking out of the fenders – to prevent rashes on custom wheels or to prevent skirts. of chrome fenders from getting scratched.
As my buddy Dave reminded me recently, for that subtle touch of color, the Blue Dots were little indigo prisms that were inserted into the lenses of the red taillights, giving that purple glow when the brakes were pressed, a custom trick of hot rodder. Dave would refer to any over-accessorized vehicle as a "JC Whitney poster car," and everyone knew what that meant.
Popular products and offers were featured on the front and back covers as well as the collapsible order form that magically became an envelope when the flap was licked and pasted, including a check or money order – and don't forget to add shipping.
As the custom car craze faded into the new millennium, JC Whitney customers aged with the need for wired exhaust cutouts and pedal radio station changers.
Roy suffered a stroke in 1991 and his daughters took over running the business until, just before the dirge was sung in 2002, it was sold to a private equity firm.
Eventually, the business that Israel Warshawsky started and Roy built was acquired by a larger online auto parts retailer, but for those of us who never designed online shopping, the catalog JC Whitney was the meow of Winky the cat!
Eric and Michelle Meltzer own and operate Fryeburg Motors, a full-service licensed automotive sales and service facility located at 299 Main Street in Fryeburg, Maine. More than a business, cars are a passion and they appreciate everything that rolls, rolls, floats or flies.